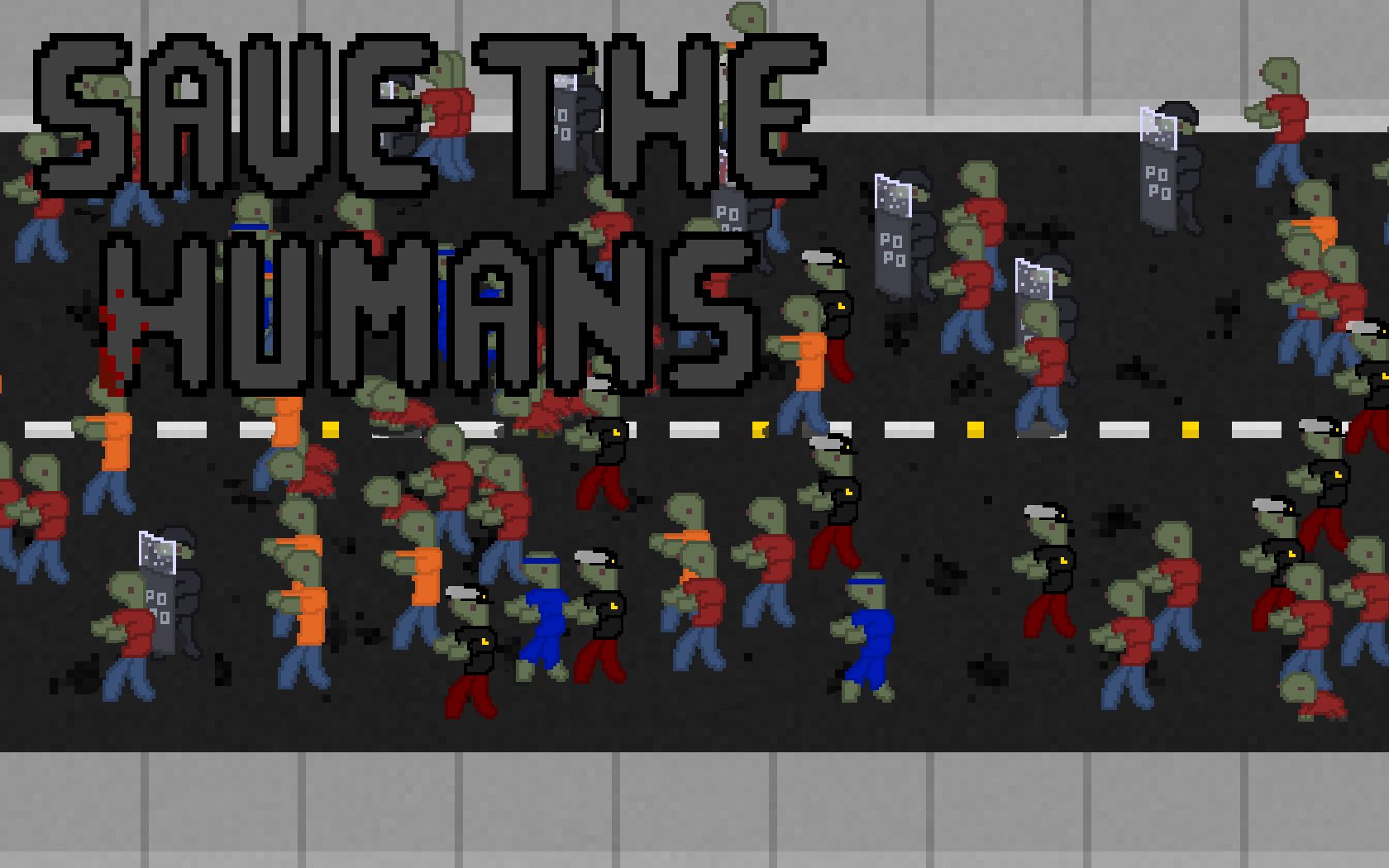 Save The Humans
A downloadable game for Windows
//The Game:
Save The Humans is an arcade game about a character named Joe that fights an endless onslaught of zombies that ignore him for some reason. His sole job is to punch, hack, slash, and shoot the oncoming waves of zombies and prevent them from getting to the other end of the road, trail, or forest area thing.
//The Features:
Arcade Mode
In this mode, players fight an onslaught of enemy zombies that are trying to pass them and enter the encampment. The player's main goal is to prevent all zombies from crossing the entirety of the map.
Character Changes
Using the money earned in Arcade Mode, players can hire other characters that have higher initial stats.
Character Upgrades
Again, with the money earned, players can level up each of their stats (Strength, Marksmanship, Speed and Strafe).
Change Maps
Only in Arcade Mode can players change the map that the game is played on in the Arcade Menu screen.
Six Different Zombies
There are six different zombies in the game to fight and defend humanity against. These are as follows: Red, Baby, Blue, Fire, Orange, and Popo. Each zombie has different attributes that make them unique.
Note: The save file is a simple text document which allows users to fully explore the game should they choose to.
Controls
WASD - Movement
Left Arrow - Attack #1

Down Arrow - Attack #2

Up Arrow - Attack #3

Right Arrow - Attack #4

Enter - Usually used to continue to the next screen

Esc - Goes back one screen

Future Plan
Story Mode.
Support for Linux and Mac
//The Work:
This game was created in my spare time. Everything used in the game except for the music, was created by me, David A. Rosales. The music credit goes to my roommate, Joe Iosue. This game is not complete yet as I am currently working on an interesting story line with a new zombie twist. However, there is currently an arcade mode that has plenty of features for you to enjoy. Eventually, story mode will be added and the price will go up to $5. Since it is currently incomplete, the game is $0.99.
Purchase
In order to download this game you must purchase it at or above the minimum price of $0.99 USD. You will get access to the following files:
Save The Humans.exe
23 MB